FMP News
As the only food bank in west central Wisconsin, Feed My People distributes 7.3 million pounds a year to local agencies. We are a cost effective way to provide pantries, community tables, and shelters enough food so thousands of people can be helped each month.
---
Drive-Thru Pop-Ups Reaching Those in Need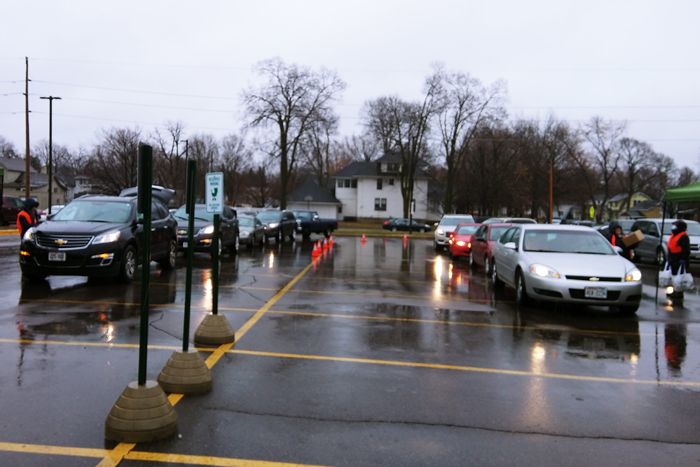 Thank you, hunger heroes, for your vital support that ensures our west central Wisconsin neighbors continue to have access to food. Below is a highlight of some of the work you help make possible during the COVID-19 pandemic.
Hunger relief partners throughout 14 counties in west central Wisconsin are going above and beyond to meet the increased needs they're seeing in their communities. Many pantries are expanding their hours and switching gears to operate as curbside grocery pickup locations, dine-in meal sites are offering to-go meals instead, and partner programs like Meals on Wheels are safely delivering meals to home bound seniors.
Our Pop-Up food pantry program has been transformed into a drive-thru to ensure safe distribution. There has been no shortage of food, volunteers, or kindness, and every family who comes through our weekly Friday distribution in Eau Claire has driven away with some hope and groceries.
We're expanding this Pop-Up program to Augusta, Eleva/Strum, Fall Creek, and Fairchild as well. By reaching rural locations, food is arriving at homes normally out of reach for extra help.
We're also packing Weekend Kids' Meal (WKM) bags twice weekly for students in the Eau Claire School District. Throughout our service area, children are free from worrying about where their next meal will come from during the extended school closure because they are receiving meals through partner backpack programs like WKM and their school districts.
Also, the usual work at the food bank continues daily, including repacking vegetables, fruits, nuts, grains, and more. Thanks to a dedicated core group of volunteers and our staff, we may be leaner, but we're stronger as we work together to safely prepare food for distribution.
If you or someone you know needs help, visit our COVID-19 Resources page. Or call us at 715-835-9415.